Posted by Payaca on May, 2021.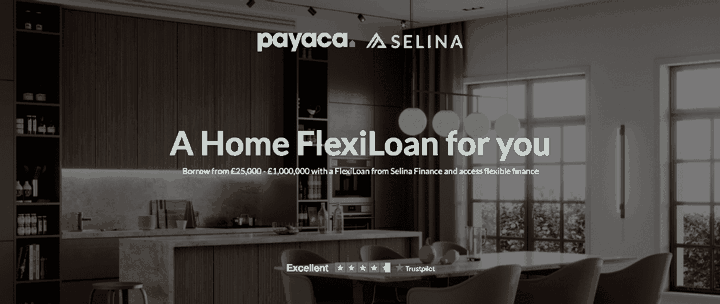 Selina Finance was founded with the aim of providing affordable and flexible financing to consumers all across the UK. By unlocking your home's potential, Selina provides the funds to help fuel your home renovations and improvements.
Who is Selina?
Selina is changing the lending landscape and with its flagship partnership, Selina is first in its kind to offer a digitalised second charge lending facility. A perfect facility that allows your customers to access the finance they need in a flexible solution. Allowing your customers to access funds from 25k - £1M. With a quick offer, customers have the ability to have a preliminary decision making the process as quick and ecient as possible.
What does Selina offer?
'The Home FlexiLoan acts like a credit line which allows you to draw funds flexibly within the first five years, you only ever pay interest on the outstanding balance'
A multi-purpose, flexible flexi-loan
Borrow from 25K to £1M
Interest rates starting from 3.95%
No early repayment charges
Up to 75% loan to value (LTV)
Terms of up to 30 years

How do I sign up to Selina?
Selina finance can be included in Payaca quotes for businesses on the Premium plan, meaning when you are ready to quote for any project that is 25k and above you are able to select the secured lending option , this will allow your end customer to now have access to a flexi secured loan (25K - £1M) now those larger projects are covered and the journey can continue.