Who is Chris?
Introduce yourself! What jobs do you do, what areas do you cover?
I'm Chris, owner of Plumbing Hot, we're a plumbing and heating company and we install heaters, bathrooms and all aspects of plumbing. At the moment we cover all of South Wales but we're looking to expand nationally and cover the entirety of Wales. 
What inspired you to get into the trade?
It was my father-in-law! When I met my wife then girlfriend at the time, I always used to see him happy when he returned home from work, and had been here, there, and everywhere, and I quite liked the idea of doing the same. Just being in a van, doing different jobs, meeting different people and that's when I realised that that's what I wanted to do. I actually started working at Pizza Hut, then started college and off I went!
How did you find out about Payaca?
It was a sales call to my phone. Everything sounded great, so I went ahead and went ahead and booked a demo. The demo enabled me to see all the great features available to help convert my business, I then signed up and I haven't looked back. (Want to see for yourself? Try Payaca for free).
What were you using previously for quoting and invoicing, and how would you say Payaca has helped you convert more business?
I was using Invoice Simple before, it was too basic and wasn't built for trade businesses. Then Payaca came in. The fact that you can use interactive quotes to add in optional extras and multiple choice through the app, and the branded invoices give you a more professional look, has enabled me and my business to increase our turnover more easily.
How has your business grown since using Payaca?
Massively. Not only do their interactive and branded quotes give our company a more professional look but it makes it a lot easier for customers to pay. I've been using Payaca for the last 12 months and have already increased my workforce by two people. I have increased my turnover by over 30k and I'm now also opening a bathroom showroom. Payaca has really helped my business and has given it the ability to grow, and I'm really looking forward to what the future holds.
How has your customer experience improved? What do your customers now say about you since using Payaca?
In terms of how it helps the customer, Payaca makes it easier for them to make a payment. I can send an invoice in just a few clicks and give my customers the option to pay online. This enables the customer to fill in their details quickly and I'm paid in just two minutes. They don't have to go through the troubles of internet banking, just a few buttons and it's paid. It's not only simple for me, but Payaca makes it simple for my customers as well.
Who would you recommend Payaca to?
I would recommend Payaca to all trades, anyone looking to grow their business and anyone looking to start their own business. Sign up to Payaca! They're a great team, the software is fantastic! Like I said, it's increased my business profits massively and they're the ones to go with!
How have you found working with the Payaca team? How have you helped shape the product?
Working with the Payaca team has been fantastic so far. If there are any issues, the team gets back to me and answers my questions within minutes. I work really closely with them, including their Product team and Engineers to give them feedback and let them know what changes they need to make to the software in order to give the full package. No matter what trade you're in, I'm sure any ideas you may have to give them to improve their software to help you, I'm sure they'll put it on their list and have it added.
What's the best bathroom you've built?
The best bathroom we've ever done was for (without knowing it) one of the UK's top Instagrammers (2019). I didn't know she was so famous, but all-in-all she had two massive bathrooms done. They were really expensive suites, and all for free! The odd thing was that she started to record me whilst I was fitting the bathtub. As she was getting the bathroom installations for free, they wanted to film and have proof that I was installing the bathroom correctly. I should've charged her double! Anyway, there were LED lights flashing everywhere, it was the complete works! Took around two and a half weeks, where there was about have a week of her recording us.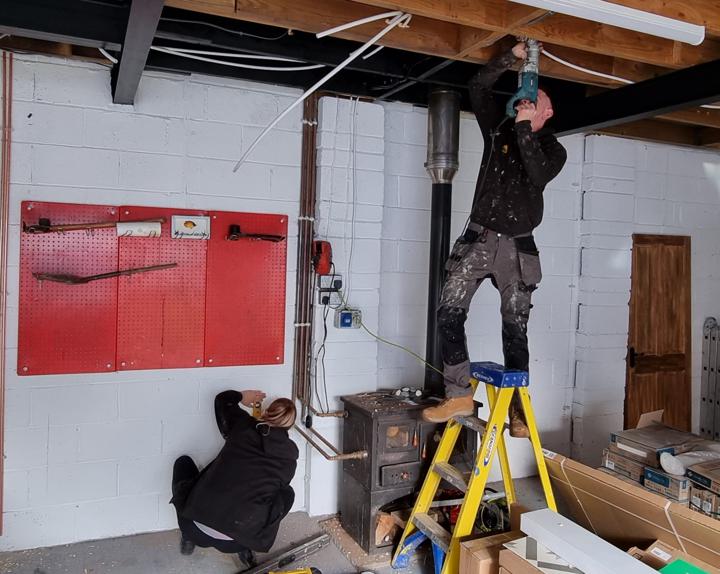 More things you didn't know about Chris
If you could do anyone's bathroom, who's would it be?
It would be Micky Flanagan's so he could go out-out afterwards!
What's on your plumbing playlist? What's your favourite song?
Well, it used to be 'absolute 90s', I used to be Clubland till I die, but I've got to admit that I now listen to Gold Radio. It's less stressful, I need some oldies to chill me out!
I'm also a big Elton John fan, I love a bit of crocodile rock!
What's your hidden talent?
I was good at snooker back in the day. My name was the 'Welsh Wizard' back in 2011. I had some really good results in a few parts of England. I still enter some Welsh events every now and again. Still playing pool at least but nothing competitive anymore.
Find out more about Plumbing Hot
Facebook: Plumbing Hot
Phone: 079 46857 884
Email: plumbinghot@mail.com
Interested in Payaca?
Try Payaca for free.